IPAC-CSO 24th Annual Infection Prevention & Control Education Day 2022
November 10, 2022 at the Grand Olympia Hospitality and Convention Centre
Thank you to all who made the IPAC-CSO Education Day a a great success! See you next year!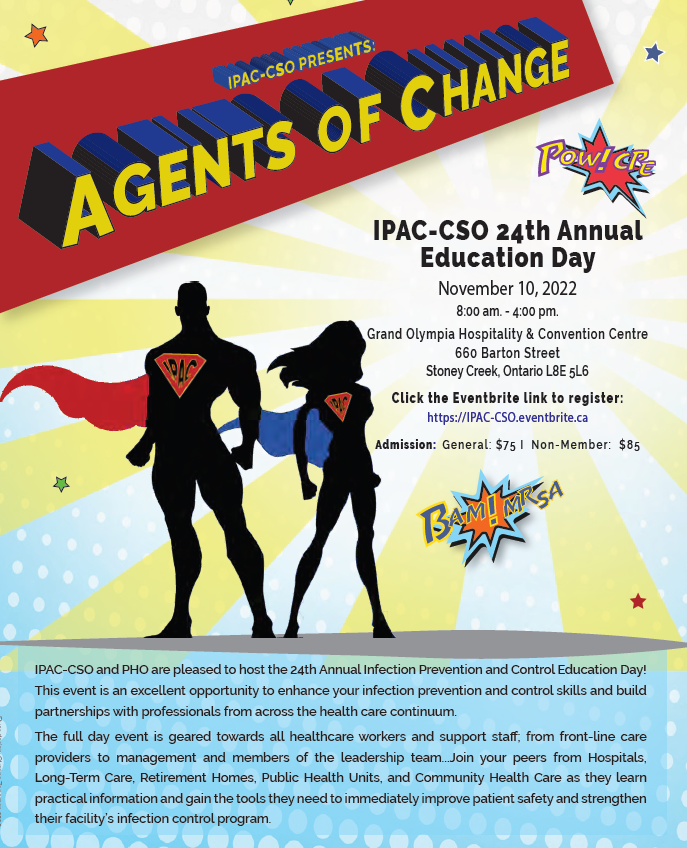 Infection Prevention and Control - Agents of Change
IPAC-CSO and PHO are pleased to host the 24th Annual Infection Prevention and Control Education Day on Thursday November 10th, 2022! This event is an excellent opportunity to enhance your infection prevention and control skills and build partnerships with professionals from across the health care continuum.
The full day event is geared towards all healthcare workers and support staff; from front-line care providers to management and members of the leadership team...Join your peers from Hospitals, Long-Term Care, Retirement Homes, Public Health Units, and Community Health Care as they learn practical information and gain the tools they need to immediately improve patient safety and strengthen their facility's infection control program.
Masking Policy
Although masking is no longer mandatory in Ontario, everyone has a role to play to reduce the spread of COVID-19 and respiratory viruses. As such, IPAC-CSO recommends and strongly encourages everyone to wear masks indoor while attending IPAC-CSO education Day. The actions you take will protect you, loved ones and those most vulnerable in our community.
For Education Day Registration click here
Agenda
0800 - 0830: Registration and Opening Remarks
0830 - 0930: Dr. Jeffrey Pernica – Discussing Vaccination Strategies with Hesitant Parents'
0930 - 1030: Dr. Kevin Schwartz – Antimicrobial Stewardship in Ontario for Primary Care and Long Term Care Settings
1030 - 1100: Morning Break and Vendor Visit
1100 - 1200: Sandra Callery - Pathways to certification and the LTC certification
1200 - 1300: Lunch – mix and mingle with the vendors
1300 - 1330: Dr. Sumon Chakrabarti – Monkey Pox: An Origin Story
1330 - 1400: Dr. Kevin Stinson – Diagnosis COVID: How to use and interpret CT values and various COVID diagnostic tests
1400 - 1430: Afternoon Break and Vendor Visit
1430 - 1530: Dr. Zain Chagla – Increase of endemics becoming epidemics
We hope you can make it!